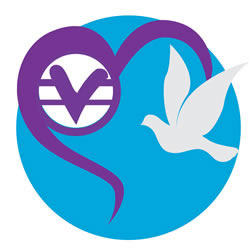 INTRODUCTION TO THE HEART OF PEACE MEDITATION
There is no reason to doubt that in the field of spiritual consciousness a chain reaction could be created which would bless the world. Peace is the power at the heart of the Divine. Ernest Holmes.
The CSL Global Heart of Peace Initiative, introduced to the community by the Global Services Committee in 2017, is a vision of Dr. Nancy Anderson. She held strong to the vision expressed by Dr. Holmes, that individuals gathered with a single purpose, moving into the consciousness of inner peace, could make a difference and bring peace to the planet.
Group meditation for peace is a practice in most of the world's spiritual traditions. When a group of people come together with one accord and with one thought, a greater Power is generated. This is not because the Creative Principle responds to a number of people more than it does to one, but because the combined faith of a group reaches a higher level of consciousness. Our consciousness expands through meditation and contemplation, through conscious communion with the Invisible, and through our intuition which is the voice of Spirit in us. When we are waiting on the Divine Presence, we come into a consciousness of Peace and a realization that we all belong to the one human family.
This is the principle on which the Collective Meditation for Peace practice is based. We can help change the consciousness of people from fear and chaos which may be caused by ignorance of our inherent creative power as direct expressions of God. The force or influence of beliefs and emotions fostered by ignorance is dissipated by the power of spiritually trained minds and hearts of love. We learn through the Practice of Collective Meditation to more deeply embody or BE PEACE and then that Peace is automatically amplified and resonates through humanity.
God is All there Is. God is Peace and Love. This peace flows forth from me into the world. My inner peace reflects as outer peace. I am grateful for the inner peace which expresses in my life and becomes the energy of peace which I share with the world. I release this now knowing that peace is the power at the heart of God. And so it is.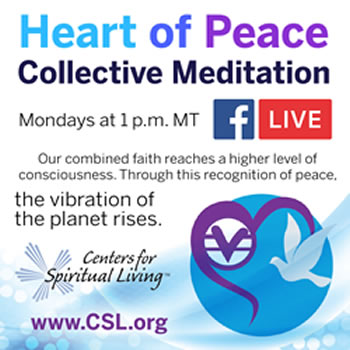 Tune in every Monday at 1 p.m. MT for the Heart of Peace Collective Meditation,
livestreamed on the Centers for Spiritual Living Facebook page.
For more details on Heart of Peace and how you and your spiritual community can get involved,
visit www.csl.org/global/service/heart-of-peace.