Hearing Between the Lines
Mondays, Mondays, April 17 – May 8
5 p.m. – 7 p.m. MT
$147
Taught by Louise Tallen, PhD, RScP
Hearing Between the Lines is an experiential course that allows practitioners to deepen their client session skills. Listening is the most crucial skill for a practitioner during client sessions, and often a practitioner has to be able to "hear between the lines," by paying attention to what is not being said, the client's body language, and nonverbal communication. In this course, students will learn how to: listen compassionately; work with their own feelings; develop skills to create a welcoming space for clients and develop rapport; work with the mind/body connection and use it to empower clients; facilitate a client's own discovery; and learn how to avoid spiritual bypass.
Students will have ample opportunity to practice these skills with each other in breakout sessions. Additionally, skills will be modeled by the facilitator and a "model client" and then practiced by students in the large group so we can learn together.
About Louise Tallen, PhD, RScP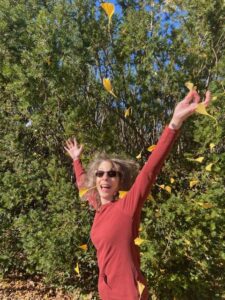 Louise is a compassionate, deep listener. She believes all of life is connected and that within each person is a divine, radiant being waiting to express. Louise's mission is to help each person with whom she works tap into their own essence and realize their own brilliance, and magnificent creativity. Louise starts from the premise of wholeness. Rather than seeing people as broken and in need of being fixed, Louise sees each person as a whole human being and works with people from that perspective.
Louise has been a Licensed Spiritual Practitioner since 2006, and has a thriving coaching practice working with individuals, couples, and non-profit groups. Louise holds a PhD in Medical and Psychological Anthropology, from the University of California, Los Angeles, and brings to her coaching work the deep listening skills and radical acceptance that have facilitated her work with vulnerable populations across the United States. Louise served on the Centers for Spiritual Living Practitioner Council for three years, including two years as council co-chair. She served as the CSL region 10 Practitioner Representative, for five years. In 2022, Louise received the Centers for Spiritual Living Practitioner Meritorious Award, given to a practitioner who has served the organization in many ways. Louise has also taught accredited CSL classes for Ahava CSL, and for the larger organization. She also facilitates strategic planning and cultural competency training for nonprofit organizations.
Louise strongly believes in serving her community and has served on the Boards of several local nonprofits including Lexington Fairness, and The Tweens Nutrition and Fitness Coalition. Additionally, she is one of the co-founders of Bluegrass Rainbow Faith Communities, a coalition of open and affirming faith communities across the commonwealth of Kentucky. When not working as a practitioner, she is a member of a professional Improvisational Theater team, Central Kentucky Improv, which performs regularly in Lexington, Kentucky and at festivals around the country, and she uses improv tools with clients to help them unleash their creativity and increase their confidence.