Trauma-Informed Care in Spiritual Guidance
Mondays, March 6 – April 3, 2023
6 p.m. – 8 p.m. MT
$179
Taught by Sarah Forbes, RScP, CPC
This course is designed to to help prevent Practitioners and Ministers from potentially re-traumatizing those who've experienced traumatic stress. Participants will learn how to identify traumatic symptoms and guide in a way that incorporates understanding of the pervasive nature of trauma. The course will also demonstrate ways to increase the level of receptivity to practices that could truly benefit those who have endured trauma.
This course will bring awareness of specific terminology and mindfulness practices common in spiritual guidance that are not trauma-informed. It will explain how to bring trauma-sensitivity into Affirmative Prayer and how to be mindful of "spiritual bypass" when addressing spiritual principles.
Participants will learn to describe what trauma is (individual, collective, systemic-related), and to define integrating trauma and the barriers to doing so, and what post-traumatic stress and post-traumatic stress disorder are.
Materials Needed: Trauma-Sensitive Mindfulness, by David A. Treleaven. Spiritual Bypassing, by Dr. Robert Augustus Masters
About Sarah Forbes, RScP, CPC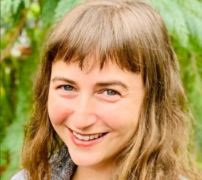 Sarah Forbes is a Speaker, Spiritual Guide, and Trauma-informed Coach and is currently finishing up Ministerial School with Centers for Spiritual Living. She began devoting herself to religious and philosophical studies at a very young age and after years of dedication to spiritual practice and study, she radically transformed her own life. Not only does she hold a degree, certifications and a license in guiding and supporting others on their spiritual journey, she has also been meditating and practicing yoga for over 20 years. When she isn't busy parenting her two sons, Sarah spends her time and energy working with others, through a trauma-informed lens, to help them uncover the joy and love that is the truth of who they are. She brings love and gratitude into all that she does and has been assisting others in awakening to their true potential for many years.