Volunteer at Camp!
Camp Cedar Ridge is seeking volunteers to join us on-site during the 2024 season. 
Housing
Volunteers will stay in shared cabin space. These cabins are close to the dining room but do not have bathroom facilities. The bathroom is a short walk away.  There is a beautiful view of the creek and the sunset from the staff housing area.
Food
Volunteers will be provided with food from the dining room. The dining room can accommodate vegetarian, vegan, and gluten-free options.
Dates and Hours
Our greatest need for volunteers is June-September. However, please contact us if you are interested in volunteering at any time during the year.
Frequently Asked Questions
Is there a minimum age?
All volunteers must be at least 18 years old.
Are there required or preferred arrival and departure days?
The dates where we have the greatest need for volunteers are 6/23/2024 – 8/20/2024, but there are year round opportunities available. We ask for a week-long commitment, Sunday to Sunday.
Other than covering their own expenses to travel to and from the camp, are there any other expenses that need to be planned for?
We will provide:
Ground transportation between the Portland (PDX) airport and Camp Cedar Ridge (if needed)
Food from the dining room (vegan, vegetarian and gluten-free options available)
Shared lodging in cabin
A Camp Cedar Ridge t-shirt
Access to laundry facilities
Volunteers should plan to have funds for spending money for any desired items beyond these essentials (like all of the COOL swag we have in the Camp Store).
Applicants must be:
Minimum 18 years old
Must have some experience with New Thought teachings
Volunteer during the summer at CSL's Camp Cedar Ridge and build memories and friendships that will last!
More About Camp Cedar Ridge
Camp Cedar Ridge is a 32-acre property that can accommodate events for 30 to 500+ guests. We provide a venue for a wide variety of events: small retreats, company picnics, large youth camps, family reunions, and weddings.
Covered by trees in the gorgeous coastal range of northern Oregon, Camp Cedar Ridge is a year-round facility located about 45 minutes from Portland, in Vernonia, Oregon. During your stay at Camp Cedar Ridge, you will very likely see deer, elk, eagles, great blue herons, foxes and coyotes.
Camp Cedar Ridge
18062 Keasey Rd.
Vernonia, OR 97064
Click to view larger map for directions.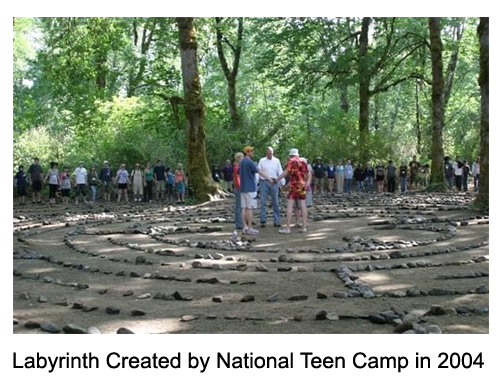 CSL Teen Camps are very familiar with this location, as it was frequented by our groups from 2004-2007. Our teens created a sacred labyrinth at the Camp Cedar Ridge as a team-building service activity. This labyrinth remains today as a testament of collaboration and teamwork that are part of the CSL Teen Camp experience.
Our teens felt so connected with the campground that they chose to plant a tree on the site of Camp Cedar Ridge and this tree stands more than 20 feet tall today.