Calling all spiritual activists!
Can we, together, create a more peaceful and loving planet? The vision, the dream of the Heart of Peace program is that all live together in harmony, peace and cooperation.
Peace begins with you. Your 'inner' world is reflected in the 'outer' world. In order to move the realization of Peace forward, in our culture and around the world, activists must create, speak and pray the consciousness of Peace. We cannot use any current realities to hold us back. We are creating something new, something that perhaps has never existed before.
In addition to shifting our consciousness, we, at the Centers for Spiritual Living, also encourage everyone to consider involvement in certain peace actions in the world. Below are some we support:
Heart of Peace Collective Meditation Groups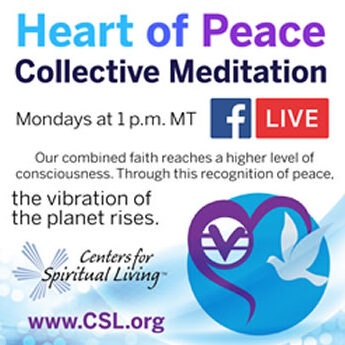 The Heart of Peace Initiative invites you to join us by creating your own meditation program or joining one of ours that is in progress.
Would you like to start a group for peace meditation? If so, click here.
Would you like to find a group (either in person or online/telephone) that comes together for a group meditation for peace? If so, click here.
For more information on our Heart of Peace Committee and its actions, click here.
Reference resources are available, click on links below:
"Imagine all the people living life in peace. You may say that I'm a dreamer, but I'm not the only one. I hope someday you'll join us and the world will be as one."
~ John Lennon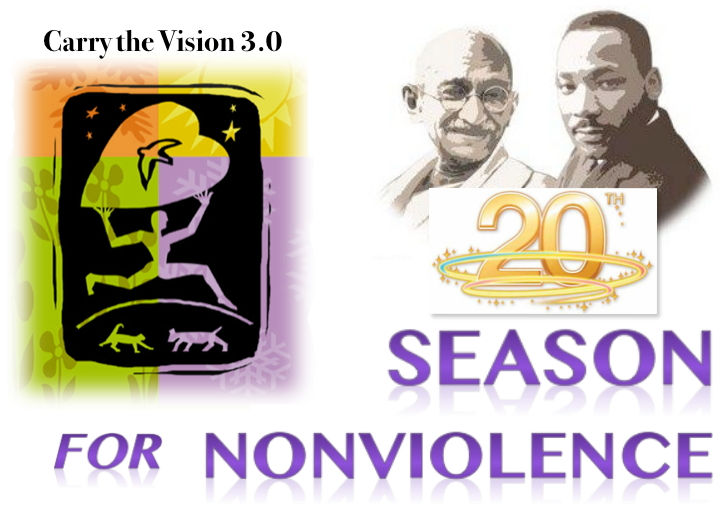 Association for Global New Thought: Season for Nonviolence (January 30-April 4)
The Gandhi King Season for Nonviolence (SNV) commences on January 30, in cities across the globe. The annual 64 day campaign, co-founded in 1998 by Dr. Arun Gandhi and The Association for Global New Thought (AGNT), is an educational, media and grassroots awareness campaign spanning the January 30th and April 4th memorial anniversaries of Mahatma Gandhi and Dr. Martin Luther King, Jr. Spiritually guided citizen leaders in 900 cities in 67 countries have participated since the campaign began in 1998. Heart of Peace is committed to supporting and further expanding participation in the Gandhi King Season for Nonviolence (SNV).
Here are resources for you and your communities to participate each year: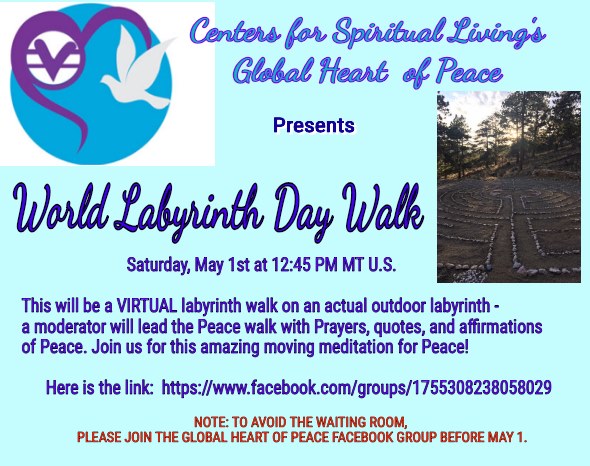 World Labyrinth Day (First Saturday in May)
World Labyrinth Day is an annual event sponsored by The Labyrinth Society as a worldwide action to "walk as one at 1" local time to create a rolling wave of peaceful energy across the globe. Every year on the first Saturday in May thousands of people around the world participate in this moving meditation for world peace. Join us for a virtual walk or create your own in person walk as possible. Find our info on the CSL Heart of Peace Facebook group.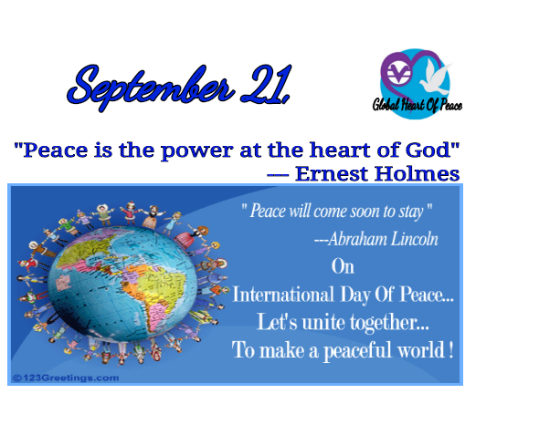 United Nations International Day of Peace (September 21)
The links below are for documents to assist you in participating in the International Day of Peace. Click on the links to download your desired documents: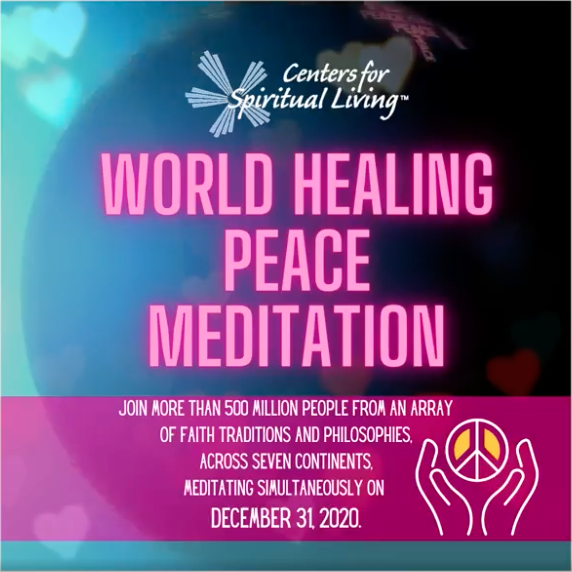 World Healing Peace Meditation (December 31)
More than 500 million people from an array of faith traditions and philosophies, across seven continents, meditate simultaneously each year on December 31, at 12:00 p.m. UTC/GMT. The gatherings begin at precisely the same moment all around the world in all the many languages, to pray in the ways of their own traditions. We each affirm Peace and commit to do our part to heal the world. It is truly an amazing experience to sense the consciousness and the presence of hundreds of millions of people sharing the hour! Centers for Spiritual Living's Global Heart of Peace initiative participates in this event every year as we contribute our consciousness to healing the world and establishing sustainable peace.
John Randolph Price and Jan Price established World Healing Day, a global mind-link for peace involving millions of people that began on December 31, 1986 — with the Los Angeles Times reporting up to 400-million participants. The event has continued on the same date and time each year. The purpose of this mind-link was to bring human consciousness to the tipping point – that level of awareness of our oneness that would ensure peace and eliminate suffering, conflict, and inequity.