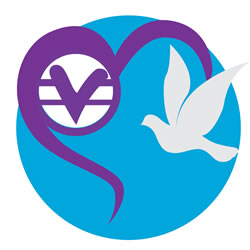 Would your community like to become spiritual activists for PEACE?
"If we find ourselves surrounded by confusion we should meditate on peace until we feel a sense of peace."
~Ernest Holmes
We all know both the power of consciousness and how that power can be multiplied when more of us join in that shift. Each person and community can be part of the ripple of peace consciousness that is established through meditation and affirmative prayer.
This project offers you guidance and materials to support you in starting a routine practice of peace meditation in your life and community. Commitment and consistence is what shall give this practice the great power to shift consciousness.
Although our vision is that many of our communities use and will use this as a group activity, this project is open to all who are interested.
The process is:
Determine when you would like to hold your meditation. What will be the day, week, or month? What will be the time?
Email the CSL Heart of Peace Initiative for training materials using the form below.
Download a sample meditation.
Market and announce your group to those interested.
Start your program.
Contact Us
For more information, please contact the CSL Heart of Peace Initiative using the form below.