Camp Cedar Ridge is seeking seasonal staff members to live, work and train at the facility during the 2024 summer months in our Summer Intern Program (SIP). We prefer individuals who have attended a CSL Teen Camp or have otherwise been involved with a Center for Spiritual Living.
Camp Cedar Ridge's Summer Intern Program (SIP) is a pathway for spiritual seekers to develop authenticity and vulnerability while growing into grounded, centered leaders who "Discover the Good" and spread it.
The three components of the program are Sacred Service, Sacred Study and one-on-one mentoring.
Sacred Service Component: The purpose of this internship component is to deliver selfless service to others. It is an opportunity to express your unique gifts and talents in ways that make a valuable contribution to the successful operation of Camp Cedar Ridge and its guests throughout the summer. This is an opportunity to BE a beneficial presence.
In the Sacred Service component, SIP interns will gain experience in a variety of guest-related areas including the Food Service, Housekeeping, Maintenance, Grounds and the Camp Store. Tasks will include:
food prepping and cooking

serving food to campers

preparing and serving for weddings and other special events

checking groups in

receiving payments

working in the camp store

cleaning (kitchen, dining hall, store)

assist with housekeeping changeovers as needed (see below).
Sacred Study: This component of your summer internship is supervised by Camp Cedar Ridge Minister-in-Residence, who serves as your mentor minister throughout the summer program. Sacred Study: The purpose of Sacred Study is to deepen your understanding of Science of Mind Declaration of Principles and to elevate conscious awareness of your creative power. Sacred Study casts a lens on your ability to recognize, understand, and demonstrate the power of Spirit expressing in, though, and as YOU—Its beloved creation. You will experience and engage in numerous spiritual practices so you can develop an on-going daily spiritual practice—one that is alluring to you. The final Sacred Study project for the Summer Intern Program is to develop and perform, as a team, a closing ceremony to celebrate demonstrations, honor sacred service, bring closure to our time together this summer, and embrace new beginnings.  
Mentoring Component: The purpose of mentor minister sessions is to provide spiritual support and guidance. Weekly one-on-one mentor minister sessions will be scheduled with CCR's Minister-in-Residence. It's a time to discuss your experience of the weekly Sacred Study activities, to expand awareness of your creative power by recognizing the manifestation of your specific intentions, and to receive on-going prayer support.
Housekeeping Changeovers
To support the timely check out and check in process of large groups, all interns and employees will support the process of cleaning, changing and washing linen, emptying trashcans and preparing the facility to receive check ins.
Housing
Interns will stay in cabins with up to four people per cabin. These cabins are close to the dining room but do not have private bathroom facilities. The bathroom is a short walk away. There is a beautiful view of the creek and the sunset from the staff housing area.
Food
Interns will be provided with food from the dining room. The dining room can accommodate vegetarian, vegan, and gluten-free options.
Dates and Hours
June 19-August 20, 2024
Interns should be prepared to work at different times and days depending on group requirements.
Compensation
Interns will receive room and board and be paid $450 per week.
Training
Interns will be provided with training to complete their tasks. They will be provided with a mentor to work with throughout the summer for additional coaching in the areas of leadership and spiritual development.
Applicants must be:
Minimum 18 years old
Must have some experience with New Thought teachings
Work the summer at CSL's Camp Cedar Ridge and build memories and friendships that will last!
More About Camp Cedar Ridge
Camp Cedar Ridge is a 32-acre property that can accommodate events for 30 to 500+ guests. We provide a venue for a wide variety of events: small retreats, company picnics, large youth camps, family reunions, and weddings.
Covered by trees in the gorgeous coastal range of northern Oregon, Camp Cedar Ridge is a year-round facility located about 45 minutes from Portland, in Vernonia, Oregon. During your stay at Camp Cedar Ridge, you will very likely see deer, elk, eagles, great blue herons, foxes and coyotes.
Camp Cedar Ridge
18062 Keasey Rd.
Vernonia, OR 97064
Click to view larger map for directions.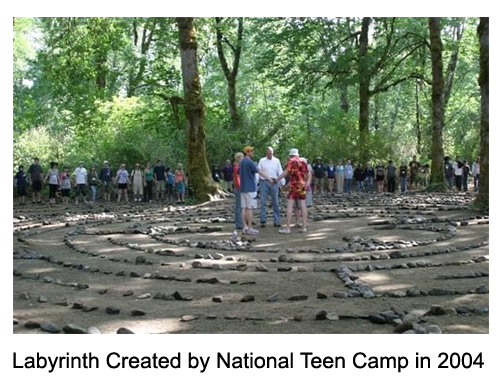 CSL Teen Camps are very familiar with this location, as it was frequented by our groups from 2004-2007. Our teens created a sacred labyrinth at the Camp Cedar Ridge as a team-building service activity. This labyrinth remains today as a testament of collaboration and teamwork that are part of the CSL Teen Camp experience.
Our teens felt so connected with the campground that they chose to plant a tree on the site of Camp Cedar Ridge and this tree stands more than 20 feet tall today.