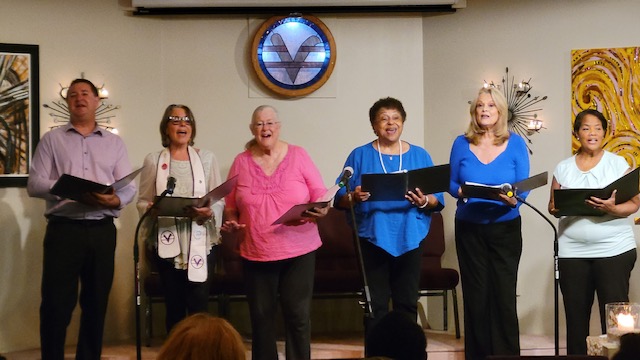 Here is our newly formed choir singing "We Have This Moment" on Mother's Day!  CSL Granada Hills is thriving and getting new members every month due to the sterling leadership of Rev. Dr. Michael McMorrow! From left to right:  Scott Fishburn – Choir Director. Andrea Recht, Kathy Theodore, Kitty Hack, Ginny Fox, Carol Woodle.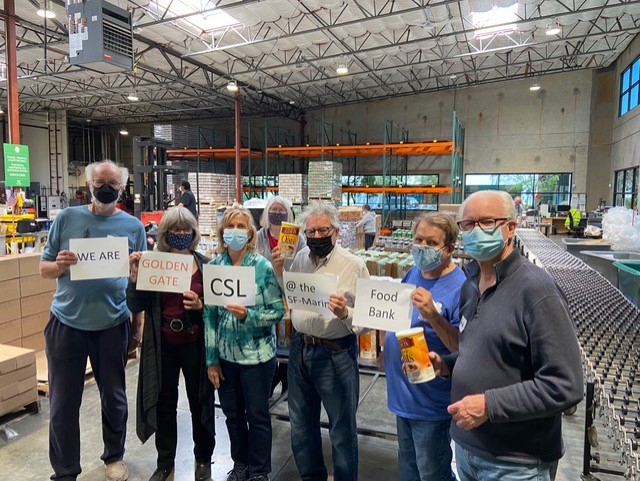 Since last July, members of the Golden Gate Center for Spiritual Living have been volunteering at the San Francisco-Marin Food Bank once a month. It's been a great opportunity to get to know each other better while we serve our community.  We've packed fresh corn, pears, and carrots into boxes, packaged rice and oatmeal into 1-pound bags, put labels on cans of tuna, and packed canned and packaged food into boxes that will go to low income seniors.   
My husband David and I have been attending Mile High Church since 2003. We are happy to send you a photo taken at a Pride Fest in Denver. David and I like to be a part of the Pride Fests and I have created a character called Lavender Mom. Being a retired costume designer, I can't let go of creating characters! I have marched in Pride Parades and enjoyed visiting and hugging all the enthusiastic folks at the parade.
This past June we also had a Pride Fest here in our hometown of Northglenn Colorado, which was also very successful. Lavender Mom and PFLAG Pop were there as well. 
 – Faith Reed, Northglenn, CO
It's time to be seen!
We would love to see your beautiful faces and be able to share them with our worldwide community on our social media accounts, featuring the hashtag #WeAreCSL, as well as here on the CSL website.  Please send us pictures of your community – whether it's two people on a walk or the whole congregation getting together.  Please have one or more people holding a sign that says, "We Are CSL."   It can be simple or as elaborate as you can dream up – just show us your version of We Are CSL! If there is a story to go with the picture, be sure to share that with us too! 
Are you doing good works out in the world? How are you living the principles of Science of Mind in your community? Is your center celebrating an anniversary? Install a new minister? What good news do you have to share with us? We would love to spotlight your community! Just tell us about it and send a picture! 
You can use the form below or send an email directly to Rev. Martha Quintana at mquintana@csl.org.