Centers for Spiritual Living Purchases Camp Cedar Ridge
After many months of prayer, planning and generous giving from our community, we are happy to announce that the Centers for Spiritual Living has completed the purchase of
Camp Cedar Ridge
in Vernonia, Oregon.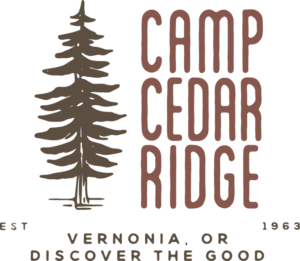 This 32-acre property is located about 45 minutes west of Portland and can sleep up to 225 indoors with another 80 in canvas platform tents and lots of space for additional tent camping. The property is also ideal for hosting weddings, picnics, concerts and other events.
We have been fundraising for 2 years and in that short amount of time, we have raised over 1.1 million dollars to support this project!   What an amazing response from our community and confirmation that acquiring this property is "an idea whose time has come."  We are deeply grateful for the community support that has led to this historic step of purchasing the first CSL camp and retreat facility. We are now in the process of setting up the not-for-profit 501c3 structure and Board that will oversee the operations at the camp, while CSL will remain the owner of the asset/land.
We have hired qualified staff who are now in place at the camp.  Dr. Kasey Wilson is the Camp Director, Rev. Phil Tapp is the Director of Maintenance and Growth, and Karin Wagemann is the Food Service Director. We are grateful that they have each brought their experience and commitment to their new roles.
One of the most important reasons for the decision to purchase Camp Cedar Ridge is that our CSL Teen Camp now has a permanent home! This was the site of the CSL Teen camp in 2004-2007, at which time the teens built a beautiful, large labyrinth, that we will now restore and make a prominent feature at the location. We are excited that the CSL Teens will be holding their camp at Camp Cedar Ridge this summer! Learn More
We are also pleased to announce that we are developing and recruiting for a CSL Summer Internship program.  If you know a former CSL Teen Camp graduate or member of a Center who would be interested in being a part of this historic summer, they can read about it and apply here.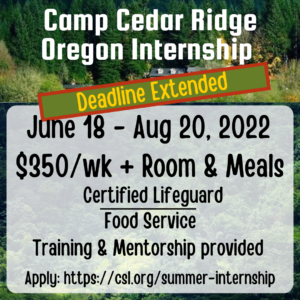 We are looking forward to booking and hosting CSL and other New Thought groups and we will be welcoming donations and volunteers. There are still available dates for both the spring and fall in 2022. We invite you to check out the Camp Cedar Ridge website and like and follow Camp Cedar Ridge on Facebook, Instagram and TikTok (@CampCedarRidgeOR) where you will be able to keep up with what is going on at camp and updates about projects that you and your Center can be involved with.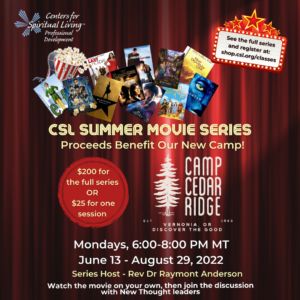 Finally, we have a fun way for our CSL community to support the Camp during its first summer. The CSL Professional Development Department has put together a camp fundraiser of an 11-week summer movie series with 11 different movie enthusiasts who will each lead a discussion of the spiritual significance of a movie that they have chosen. The CSL Summer Movie Series: Popular Cinema through a New Thought Lens will be hosted by Rev. Dr. Raymont Anderson.  
In closing, I want to express immense gratitude again for all of our contributors, centers and individuals who believed in this project, including the Science of Mind Foundation, Hefferlin Foundation and CSL Leadership Council. Pulling this project together took tremendous vision and commitment to see the long-term return on investment along with careful strategic planning and coordinating. In particular, I want to thank Dr. Steve Burton whom I coerced out of retirement to help me on this project. His experience and background were invaluable and a key to our success.  
As always, the closing of one chapter means the opening of a new one. The successful purchase and acquisition of this property opens a new chapter of the ongoing stewardship and support of the camp, to which I invite each of you to consider what is yours to do. Donations and ongoing pledge support are welcomed from individuals and centers alike. Consider sponsoring a special renovation project and know that you are contributing to lifelong memories and lives transformed through the quality experience groups have at this amazing site.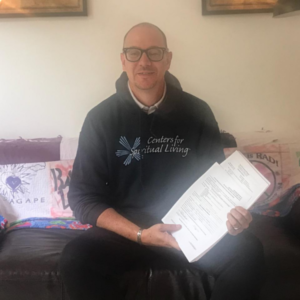 My life was transformed by the exhilarating experiences I had at church camps, and those experiences led me into a life of service. It has been a humbling honor to oversee this project. I know that together we have done something special that will be of tremendous value for generations to come, as groups of diverse backgrounds make their way to beautiful Vernonia, Oregon to attend an event at Camp Cedar Ridge and Discover the Good!  
 In Service,  
Rev. Dr. David Alexander (hon) 
CSL Leadership Council Chair  

Camp Cedar Ridge is a 32-acre property that can accommodate events for 30 to 500+ guests. Whether it is a small retreat, company picnic, large youth camp, or wedding, we have the expertise, space and amenities to make your event successful.  
Covered by trees in the gorgeous coastal range of northern Oregon, Camp Cedar Ridge is a year-round facility located about 45 minutes from Portland, in Vernonia, Oregon. During your stay at Camp Cedar Ridge, you will very likely see deer, elk, eagles, great blue herons, foxes and coyotes. 
A Brief History
The current owner of Cedar Ridge Camp has a longstanding relationship with Centers for Spiritual Living and our CSL Teen Camps. He believes CSL is the organization to carry on this good work in the world through its ongoing ownership and oversight.
A brief overview of the camp's history:
• We honor and acknowledge that the land on which Camp Cedar Ridge stands is the indigenous land of the Chinook and Tillamook peoples.
• November 29, 1886
Homestead Certificate signed by President Grover Cleveland
• 1886-1963
Property used as farm and home
• 1963-1991
Location of Perry's Basketball Camp
• 1992-2022
Location of Cedar Ridge Camp & Retreat Center
• May 12, 2022
CSL's purchase of the property is recorded and Camp Cedar Ridge officially opens!
Camp Cedar Ridge
18062 Keasey Rd.
Vernonia, OR 97064
Click to view larger map for directions.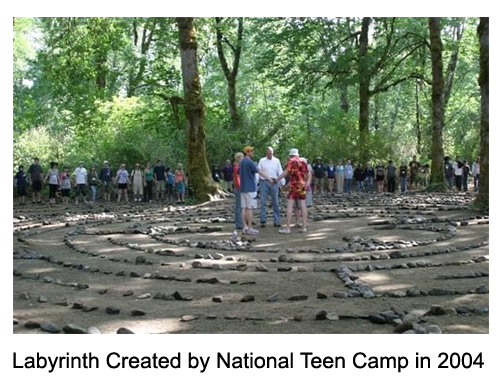 CSL Teen Camps are very familiar with this location, as it was frequented by our groups from 2004-2007. Our teens created a sacred labyrinth at the Camp Cedar Ridge as a team-building service activity. This labyrinth remains today as a testament of collaboration and teamwork that are part of the CSL Teen Camp experience.
Our teens felt so connected with the campground that they chose to plant a tree on the site of Camp Cedar Ridge and this tree stands more than 20 feet tall today.